Reverse light wiring diagram for Back-up lights
11-11-2009, 11:02 PM

Reverse light wiring diagram for Back-up lights
---
I decided to draw up a wiring diagram for those that are interested in adding reverse light to your rig. This is how I see it when I look at it. I'm sure it can be done many other ways, but mine works perfect. I used 14ga for everything and 2-40amp relays. 30's are fine. i just had 2 40's lying around. Just a standard automotive relay, whatever is convenient and cheaper. A 10amp fuse should be installed as well for 35/55w lights.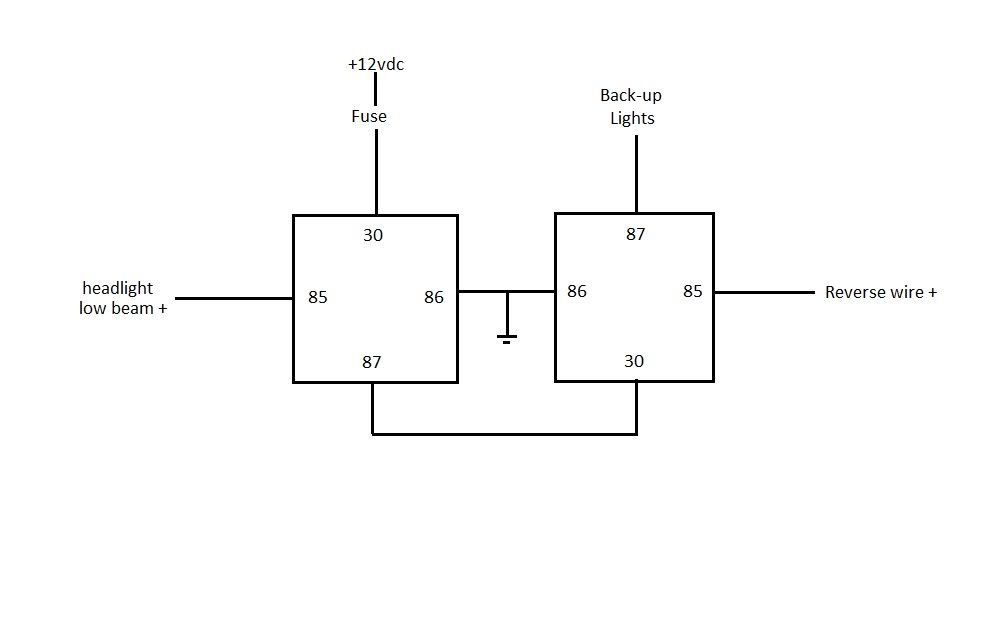 Now, the lights will only come on when the headlights are on which is why I wired it like this to avoid the reverse lights being wasted during the day. Chances are that your not going to need the lights when your headlights are on.
As for the reverse light wire. Mine is an '08 and mine was the white/green stripe and was located under the hood and on the driverside towards the firewall. I used a T-tap and put dielectric grese in it before i squeezed it over the wire. The headlight switch on my H13 socket was white/dark Blue stripe. I wanted to keep the splicing under the hood instead of putting it out in the weather underneath the truck somewhere. You can certainly access any of the wires from the rear, but I'm a corrosion freak. I use all heat shrink connectors and I squeeze some dielectric grease before I heat them up. Then just wipe off the excess. I fished the power wire for the light through the stock convoluted tubing. What a PIA. i did have to use zipties when i went behind the gas tank. No flopping wires. Keep them secure so they don't chafe.
I grounded each light individually to the bed frame. figure 12" wire for the ground leads. I used a self tapper as the metal is thinner there. i squirt some dielectirc grease over the whole screw and around the base. give it a good coating. It'll stay on there for longer than you would realize unless your pressure washing it directly???

It helps keep the screw terminal from rusting and having issue's with the lights later on.
I also peeled the rubber boot back on the backside of the forglights I used and swuirted more dielectric grease all in there. That tire will be kicking up a lot of water and snow. I wanted to make sure they had no issue's. Just another reason if your buying lights to get sealed housings like tractor lights.
---
Last edited by dirtydog; 11-11-2009 at

11:04 PM

.
11-11-2009, 11:53 PM
Join Date: Oct 2005
Location: Neenah WI
Posts: 635
11-12-2009, 01:23 AM
11-12-2009, 10:46 AM

---
I already had posted them. They are
HERE
Just scroll down till you get to them as I have my other lights posted as well.
You can use any lights you want and mount them anyway. I think mounting them ontop of the rear bumper in front of the brake light is the best spot. it's just sorta an eye soar is all, so i tucked mine up underneath and it def limits the range, but you cannot see them at all unless you look under the bumper. But you can see in the blurry pic that the light shines out prob like 30ft back from the truck where as stock lighting was only 15ft if that.
---
Last edited by dirtydog; 11-12-2009 at

10:50 AM

.
11-12-2009, 07:28 PM
12-30-2009, 09:25 AM

---
Just tackled this project last night and it was a fun modification! Good inexpensive project for awesome results. Thanks for the guidance DD. I ended up wiring the reverse lights up to their own LED switch using the 2x3 popout provided. You end up laying on your back for awhile...haha. Look forward to the next mod!
10-30-2011, 10:53 PM
Join Date: Feb 2006
Posts: 1
09-02-2012, 08:23 PM
Join Date: Sep 2012
Posts: 1
09-03-2012, 06:53 AM

---
I provided all the information in this thread and the link.

Why not just tap into the trailer plug or buy a trailer side plug end and wire your light up and plug it in! My tailgate bar plugs directly into the 4pin socket.

There's wiring diagrams ALL over the internet that provide wire colors/pinouts for trailer plugs! Would have been an easier search then on here. ;-)

GL
09-05-2012, 01:29 AM
Thread
Thread Starter
Forum
Replies
Last Post

Posting Rules
You may not post new threads
You may not post replies
You may not post attachments
You may not edit your posts
---
HTML code is Off
---