1989 Dodge RAM B350 stalls (318cui)
09-06-2012, 11:20 AM
Join Date: Aug 2012
Posts: 26
09-06-2012, 12:55 PM
Van & CUV Section Moderator
Dodge Forum Moderator
Join Date: Nov 2006
Posts: 4,444

---
09-06-2012, 07:00 PM
Join Date: Aug 2007
Posts: 1,146
09-06-2012, 11:06 PM
Join Date: Sep 2010
Location: Portland Oregon
Posts: 48

---
Weirdest thing for me is no error codes. Fuel, vacuum, ECM, and most things cause error codes.

You can apply pwr to ASD relay and hear it click or check continuity with a meter. It would trigger a code though.

I had no spark, but had pwr to coil. Turns out the ECM was bad and wasn't telling coil to work.

I also had the bolt that holds the computer connector shake loose. When pushed in the van would charge. When wiggled van would die.

Check the ECM, coil, and all ground connections. A loose wire can be random.
09-07-2012, 06:00 AM
Join Date: Aug 2012
Posts: 26

---
Landyacht: Are you also using that coil on a '89 318? Because I ordered the exact same as you yesterday even though I'm not really sure it will work since it does not look exactly the same as the one I currently have.

Poagman: No error codes relating to the problem, just A/C and battery disconnected. In troubleshooting this problem I changed the coil for a new high effect coil. It provided me with a slight but noticable change in ignition "sound and time" but problem remains so I'm confident the coil is not faulty.

When you speak about ECM, are you referring to the "SMEC"? (Single Module Engine Controller), the "computer" so to speak. Does anybody know of any troubleshooting procedures or do I have to try another unit to make sure this is faulty?
09-07-2012, 06:07 AM
Join Date: Aug 2012
Posts: 26

---
Sorry, this is the one I ordered, but it looks exactly the same...
http://www.summitracing.com/parts/SMP-LX127/?rtype=10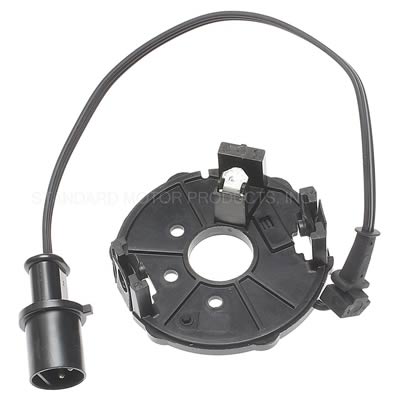 I hope it will replace the 4289741 even though it does not specify so...
09-07-2012, 07:03 AM
Join Date: Aug 2007
Posts: 1,146
09-07-2012, 07:23 AM
Join Date: Aug 2007
Posts: 1,146

---
Did you ever look at the connectors at the Smec/ecm/pcm?

Rain/ wash/ nightly condensation water loves to drip inside the hood and down the firewall. Lots if wires here to direct this water to the connectors at the ECM.

I fashioned a drip rail to direct water from running back along the firewall

Disconnect battery, remove the 2 connectors and shine a strong light inside Especially the white colored 14 pin connector. YOu should see shiny brass pins and clear dielectric grease only. Any green or black and out come the q tips and rubbing alcohol, or electronics spray cleaner.

But I believe you answer lies in post #2

There is no way to pinpoint the ecm besides replacement, or testing/replacing every other sensor that might possibly be the issue and the wiring leading to them

My ECM failed because some wires leading to the transmission were chafing in the slipstream and grounding out on the bell housing.

It seems the '97 t0 '03 PCM's can just randomly fail for no apparent reason. Earlier versions fail cause a sensor/ computer operated solenoid or the wires leading to it is/are shorted to ground.

My ECm failure did not cause stalling, but a random starting issue where it would stumble fart and backfire for a few seconds before settling into a normal idle. This became more frequent and of longer duration until I finally found the burnt wire and then ordered a new cardone ECM from Rockauto, 7 years ago.

The ground for the engine computer is a wire that connects to the intake manifold, where the coil mounts to it. Make sure that is clean and tight. All other grounds too, including battery cables
09-10-2012, 06:03 PM
Join Date: Aug 2012
Posts: 26

---
So, more bad news to begin with. I replaced some stuff today. First off all of the belts since they had seen some serious wear. Then replaced the rotor and the hall effect sensor. The latter was a Standard Motor Products LX127. According to information I found it replaces chrysler part numbers 4289746, 4379443 and 4379488. Since the hall effect I originally had was stamped with 4289741 but I found no equivalent I went with this one - it was the best match in numbers and upon assembly looked almost exactly like the one I already had.
Went ahead and fired up the engine - I could see the distributor cap wiggling. Turned it off quick as hell and kind of think I must've not seated the rotor correctly, so the little "metallic wing" on top was severly twisted.

I then replaced the old one and made sure it was really seated and tried again:
Engine would turn but not start whatsoever. Since it was starting before I replaced the stuff today I suspect that the LX127 does not replace the original hall effect sensor I had. Would this disable the engine from starting altogether? Is there any way I can confirm if the new hall effect is working or applicable on my 1989 Dodge?
With this in mind - I really need your help. What would be my further steps of troubleshooting? Should I put the old hall effect sensor back? I'm kind of lost now.

To answer landyacht318: No, I have not checked the connectors at the SMEC yet. Will do for sure. Is the wire for the SMEC ground bolted onto the intake manifold with the same bolt as the coil? If so I will give it a good cleaning.
I THINK my main problem is the SMEC. Question is if I made it worse by replacing to an incorrect hall effect sensor. I'm starting to feel a bit down because of the fact that nothing I do seem to help. :/ Thank you all for your help though!!
09-11-2012, 12:58 AM
Join Date: Aug 2007
Posts: 1,146

---
There is a test procedure for the hall effect sensor, but returning the old one would probably be as good a test.



The procedure is in my Haynes manual. You need a digital multimeter to test it. If you have one I can post the procedure.

If the improperly mounted distributor cap twisted the rotor, the distributor cap could be compromised as well. Replace it with one that has brass contacts. Aluminum contacts do not hold up well.

The same bolt which holds the coil down to the intake manifold has the connector for the ECM ground.

It is a good idea to add a ground between the frame and the engine. My main engine ground was connected where the air pump attaches to the engine block.

If this is loose and crusty, then the ground is finding another path whose wiring is not adequate to pass alternator charging current and things go crazy.

Cannot be stress enough how on dodge Vans bad grounds cause bizarre behavior and they should be eliminated as possible culprits before chasing down other things.

Don't just look and determine they are fine. Remove, wirebrush/ file shiny and retighten. Same goes for battery connectors, and if any green or white corrosion is on the battery harnesses, replace those too.

Crawl under with a flashlight and look at all the wires and connectors on the transmission looking for burnt wires and loose crusty connectors.
Thread
Thread Starter
Forum
Replies
Last Post
Vendor Group And Special Buys

Posting Rules
You may not post new threads
You may not post replies
You may not post attachments
You may not edit your posts
---
HTML code is Off
---