South Africa talking war over hermaphrodite
09-12-2009, 01:50 PM
Join Date: Apr 2009
Location: MI USA
Posts: 967
Likes: 0
Received 0 Likes on 0 Posts

South Africa talking war over hermaphrodite
---
Caster Semenya withdraws from race in South Africa
• Leaked sex test reveals she is a hermaphrodite, say reports
• South Africa minister threatens 'war' if she is disqualified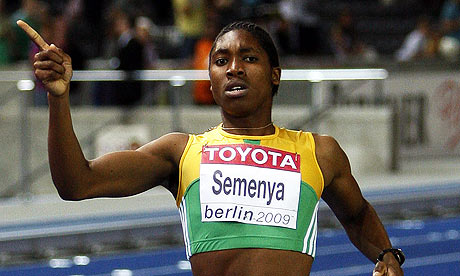 Caster Semenya has pulled out of a race in South Africa after results of a sex test were leaked. Photograph: Rainer Jensen/EPA
Athlete
Caster Semenya
has pulled out of her return to competitive sport amid growing fears over the psychological impact of rumours about her sex.
The 18-year-old withdrew from a cross-country race in
South Africa
tomorrow after it was widely reported that a leaked sex test reveals she is a hermaphrodite. Her coach, Michael Seme, said she will not run because she is "not feeling well".
South Africa condemned the international media reports as an invasion of the teenager's privacy and threatened a "third world war" if the women's 800m champion is disqualified from
athletics
.
The process by which Semenya's most intimate physical details have become a public talking point intensified when Australia's Sydney Daily Telegraph said that she had no womb or ovaries, but internal male testes which were producing extraordinary amounts of testosterone.
The strain of the ordeal began to show on Semenya's family. When her mother, Dorcas, was contacted by one newspaper for a response, she wept and demanded: "What do you want me to do?" Semenya's father, Jacob, said people who believed his daughter was not a woman were sick. "They are crazy. Are they God?"
Both the International Association of Athletics Federations (IAAF) and the media were condemned today for failing to respect Semenya's human rights.
Jacob Zuma, the South African president, said: "We have a girl who has performed and won. I don't think we should play with people's lives and privacy. Why should we not respect the privilege between doctor and patient?"
His sports minister, Makhenkesi Stofile, said it would be unjust for the IAAF to exclude Semenya from competing as a woman. "I think it would be the third world war," he said. "We will go to the highest levels in contesting such a decision. I think it would be totally unfair and totally unjust."
Stofile said his department was consulting a top legal firm about action against the IAAF over human rights violations. "What is disconcerting is that the pattern being followed in releasing these purported results is the same as the one being used when Ms Semenya's humiliation started," he said.
"We see the media being the ones breaking the story, while those close to the matter are pleading ignorance. Just like before, Caster's human rights are not respected at all. The humiliation she and her family suffered is still continuing. We are even seeing the greed factor starting to outstrip genuine concerns for her rights and future wellbeing."
Stofile continued: "No one doubts her gender anymore. Now the issue is of the percentages of her gender; this is as disgusting as it is unethical. Caster is a woman, she remains our heroine. We must protect her."
A group from Semenya's home province, Limpopo, urged all participants in the controversy to consider the teenager's feelings. The Limpopo Progressive Women's Movement said: "We want to urge all role players in this sad saga to be more sensitive in how they handle it going forward. Stop the leaks, stop the double standards and stop hurting Caster and her family ... How can we victimise a national hero like this?"
Winnie Madikizela-Mandela, the ex-wife of former president Nelson Mandela, joined the condemnation. "The poor innocent child is a victim of all this, and it is not of her making," she told South Africa's Star newspaper. "I do not understand how any sane person can blame this child for a biological problem which is not of her making."
The IAAF, facing another embarrassing leak, declined to confirm or deny the Australian report but said it should be treated with caution. The body's spokesman, Nick Davies, said it had received the results of Semenya's tests but would not release them until 20-21 November.
"I simply haven't seen the results," Davies wrote in an email to the Associated Press. "We have received the results from Germany, but they now need to be examined by a group of experts and we will not be in a position to speak to the athlete about them for at least a few weeks.
"After that, depending on the results, we will meet privately with the athlete to discuss further action."
After dominating her race at the world championships in Berlin last month, Semenya underwent blood and chromosome tests, as well as a gynaecological examination. The IAAF has said Semenya probably would keep her gold medal because the case was not related to a doping matter. But it is less clear whether she would be allowed to compete again if she proves to be a hermaphrodite.
http://www.guardian.co.uk/sport/2009...e-south-africa
09-12-2009, 10:20 PM
Join Date: Apr 2009
Location: MI USA
Posts: 967
Likes: 0
Received 0 Likes on 0 Posts

---
Yeah, thats true.
I guess they have to work that little detail out still.

On the + side, it'll probably immigrate to America, write a book about it followed by a movie ,,, Probably no offers from Playboy in the cards though.
09-14-2009, 01:20 PM
Join Date: Jul 2005
Posts: 9,439
Likes: 0
Received 0 Likes on 0 Posts

---
I'm truly sick of this "leaking" of information. In my opinion, this does far more damage to people than the actual truth being told. More to the point, everyone who is involved should be automatically fired for their part in this...

I can tell you that if something like that happened to me where life altering information was leaked by a facility, that entire company would be dust by the time I finished...
09-14-2009, 02:17 PM
Join Date: Apr 2009
Location: MI USA
Posts: 967
Likes: 0
Received 0 Likes on 0 Posts

---
Do you think anyone was surprised that she has male genetics ?
C'mon, look at some of its pics.
I could see your point if it wasn't something patently obvious, like a drug test or something.
09-18-2009, 01:01 PM
Join Date: Jul 2005
Posts: 9,439
Likes: 0
Received 0 Likes on 0 Posts

---
Ummm, most female track women look like that anyhow....be it white or black...
As for the other comment you made about being 100% female.... a hermaphrodiate is still 100% female, they just have the extra genitals and no ovaries...
Women who have a hysterectomy no longer have ovaries either.....so you could say that's not a 100% woman either.
I'm very much inclined to bash you for the comments but rather my suggestion is simply do a bit more reading on it. How would you like that to be your defining moment in life...