Introduce Yourself Here!
01-04-2007, 06:30 PM

RE: Introduce Yourself Here!
---
Hey spikey....I dig your rims. Nice ride.

Anyways, my name is dave, I'm 25. I live in michigan near grand rapids. I have a bachelors in finance from GVSU (if you follow div II football, doubt anyone does, you'll probably hate my school since they have been national champs 4 of the last 5 years). I have an 04 neon sxt that I bought 4 years ago. I used to mod it a lot but now that I'm on my own now it is a little tougher. But I still do things here and there. It has the usual I/E and mounts. It is dropped as well. I have been to the track with it. I used to go a lot, but I haven't been in a year mostly due to working 45-50 hours a week last year. Best Et to date is a 16.05, best trap to date is at 88mph. My original goal and current goal is to boost (most likely srt swap), but don't see it happening for a long time. I have more priorities then that at the moment. I like to go up north and be out in the wilderness (yep, don't really have that where I live). I love photography, I take tons of pictures. Thats about it, here is a pic of my car a couple months ago and then one of how it sat over the summer.




[IMG]local://upfiles/1628/EBC88FA731D84732AD5C3FE0C4AB2453.jpg[/IMG]

[IMG]local://upfiles/1628/15C538D4307A4C66B0CCB261F031403B.jpg[/IMG]
01-05-2007, 12:53 AM

RE: Introduce Yourself Here!
---
Hello everyone! I go by the name "freerider" on a lot of neon forums... however my real name is Jeff and I am 19.
I live in a small town with Herritage. Los Alamos New Mexico has bread me to glow green, but I am attending college in Socorrow New Mexico with a few buddies and a lot of new friends who happen to be car guys

I am majoring in CS and minoring in TC or management (Cant decide).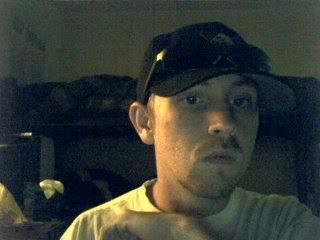 thats me. Horrible pic of me in my dorm room like 4 months ago. I am on break for a while longer so for now Im home.
I purchased my car completely bone stock back in august 2005. I have had the car since then but my pockets arent as deep as Id like them to be. So everything I wish to do is on serious delay till I get some cash.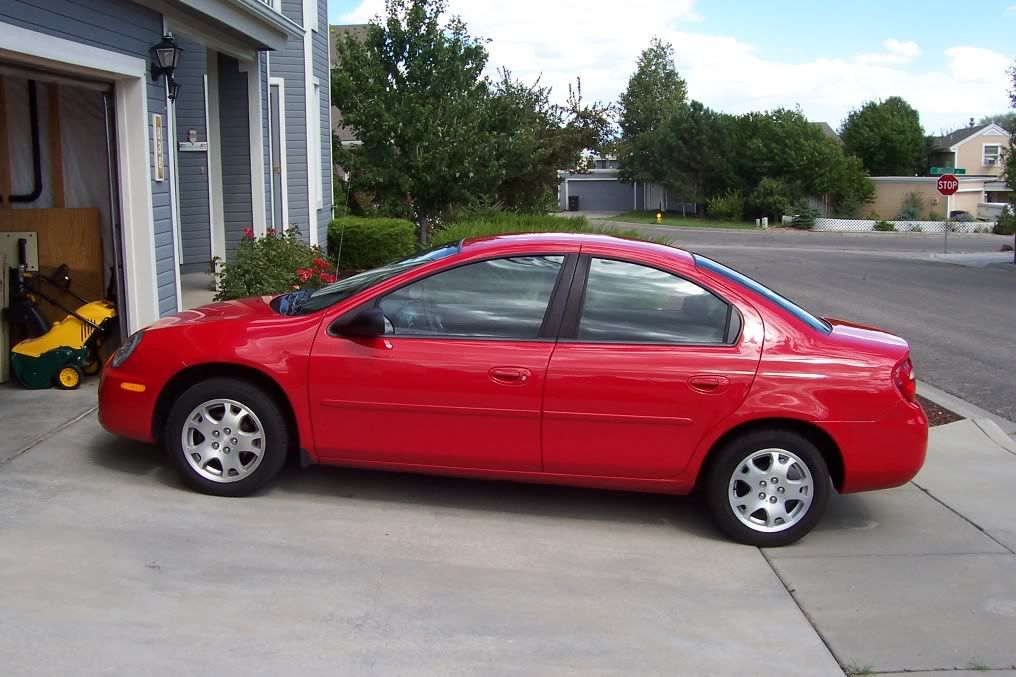 My Car completely Stock!
I have done a bit since I have owned her... but I can't wait to do a lot more.
I have done:
K&N CAI
Vibrant Dual Exhaust
60mm TB
MSD Ignition Coil
DC Strut Bars (front and rear)
Prothane Race Motor Mounts
SRT-4 Spoiler
3D Mopar Tail Lights
Shorty Antenna
Sony Xplode Rear Deck 6x9's
And come spring break I will have my camshaft, valve springs, and header installed with maybe an UDP to go with it!!! Time will tell!!
My car now...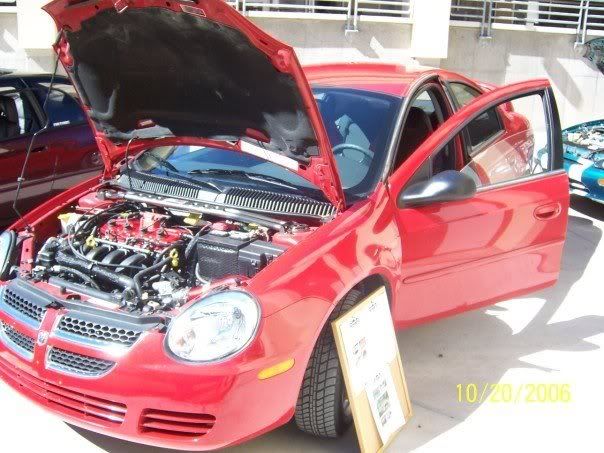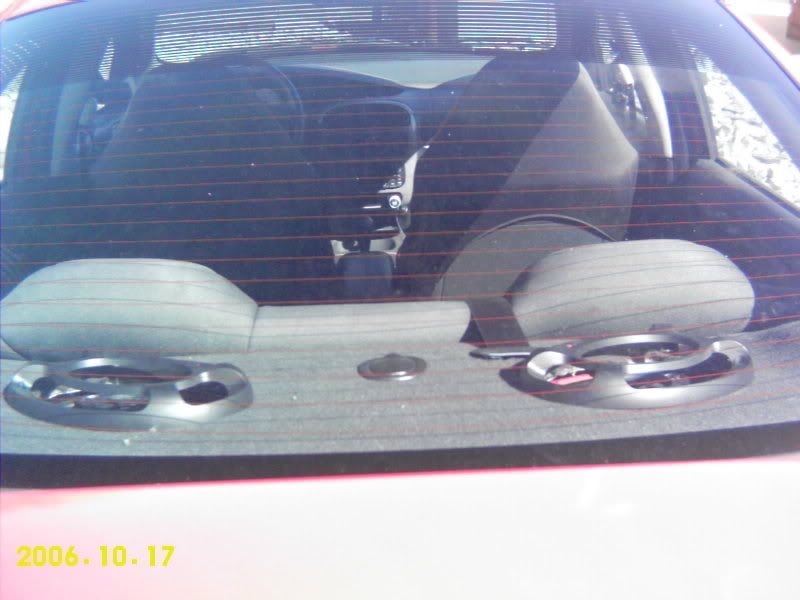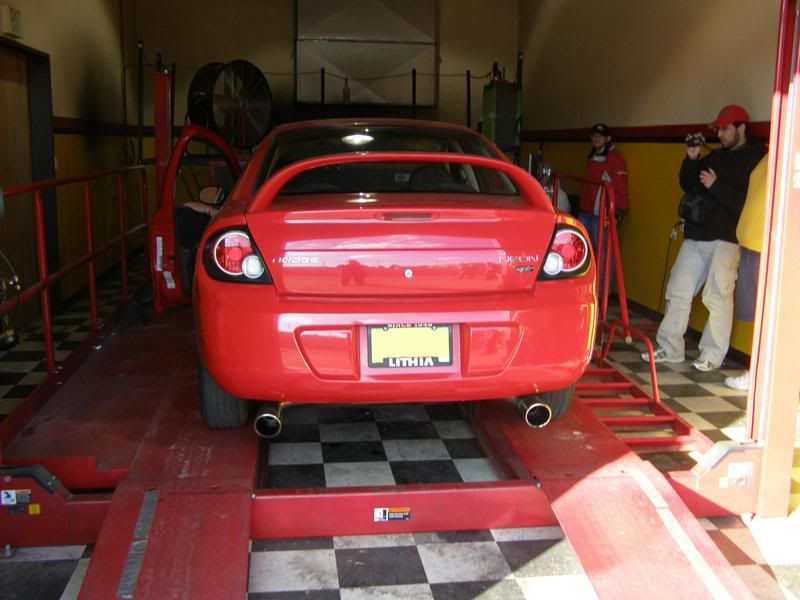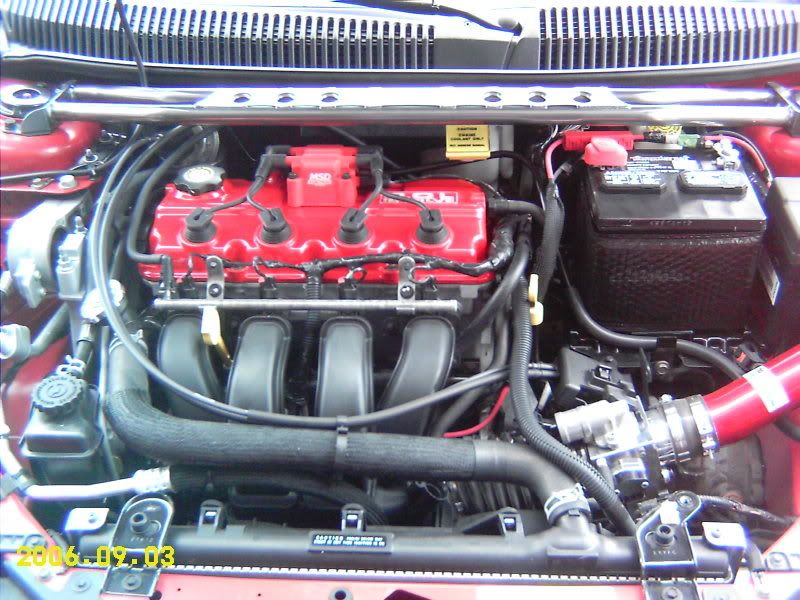 I havent got any good photo shoots since a lot of my newer mods but thats only due to weather.
Hopefully during summer time I will get a lot of cool pics.
01-06-2007, 01:01 AM
Join Date: Aug 2006
Location:
Posts: 279

RE: Introduce Yourself Here!
---
hello everyone my name is quinn raymond and i live in las vegas nevada born and raised [it sux] im sixteen and i attend highskool but i have a 2002 dodge neon sxt its solar yellow. my dad bought the car from an insurance yard in like 2003 the car sat for like 3 years and we finally fixed and my dad put a slick custom paintjob on it.currently my neon has been having a lot of problems with the whole intake system[:@]. now my neon only has 19000 miles on it and lots of retards think its an srt4 at skool haha.
these are my mods so far: cold air intake 17 inch black motegi rims with nexen tires euro tailights black crysatl front lights debadged i just bought a pacestter header from dtjackten and just ordered a mesh grill kit off ebay. still to come: carbon fiber tailights sound system tinted windows thats perty much all i think. well here are some pics thanx for lookin.


[IMG]local://upfiles/41812/E4A02E218ADE49E9ADF9E44EA5467E4D.jpg[/IMG]

[IMG]local://upfiles/41812/B30FBAB8EBF4483282757FC0AE025769.jpg[/IMG]

[IMG]local://upfiles/41812/FAAC3B84A8E746918BB44561674EC384.jpg[/IMG]

[IMG]local://upfiles/41812/B1849D23AC5545F3933B69CB0EF59EF8.jpg[/IMG]

[IMG]local://upfiles/41812/851F6A30E4E045A6BDAA593391799A78.jpg[/IMG]
01-11-2007, 04:04 PM
Join Date: Oct 2004
Location:
Posts: 4,495

RE: Introduce Yourself Here!
---
Hi my name is Holly , Im 27 and I have a 04 ebony black sxt auto , soon to do the whole srt swap and tranny . My current mods are red 111 cuda stripes , car club banner on front , ghost cross on rear window , double limo tint on all 3 rears , srt wing, srt exhaust with glasspack muffler, depo black led tails, clear brake light, flip flop trunk, custom cf/red sxt-4 rear badge, nightshaded sides, rockblocker smoked headlight /foglight flim with cf shorty vinyl eyelids, blacked out front bumper with custom vader front badge, shorty zzapp black 3inch antenna, interior mods, black vinyl headliner with red vinyl visors, red and black custom leather seatsfront and rear, speedhut red and black flamed glo gauges, pioneer mp3 player, engine custom red intake , front strut bar, cf intake filter, red fuse box cover and red silcone hose dressup , getting by spring is srt custom gloss black /deep dish chrome lip with some kdw2s and a nice drop , 4 way speakers and amp and I also have plates that say neon gal. Pics too come top secret until then.
01-12-2007, 02:39 AM

RE: Introduce Yourself Here!
---
just thought i would put a pic or two of my new little girl!!!
I adopted her a week ago, she is a Pure akc registered Siberian huskey, 10mths old and has the most beatuiful eyes ever!!!

[IMG]local://upfiles/24713/FDB684EA80EF481A8DBE7290A5AA3DD8.jpg[/IMG]

[IMG]local://upfiles/24713/25F2694A13AA402CAF5AF0201E6BF9CD.jpg[/IMG]

[IMG]local://upfiles/24713/D4E01456140A4814B66476AD1D6281C2.jpg[/IMG]

[IMG]local://upfiles/24713/3C22CE39C6CE4580A245019070C551A2.jpg[/IMG]
01-12-2007, 11:14 AM
Join Date: Jan 2007
Location:
Posts: 71
01-12-2007, 06:52 PM
Join Date: Oct 2006
Location:
Posts: 299

RE: Introduce Yourself Here!
---
Hey what's up all? My name is Joe--I'm 21 going to Stony Brook University for a major in Biomedical Engineering--yes as crazy as that sounds at some schools it's also known as Biological Engineering. Anyways, I have a 2003 Dodge Neon; I do mods little by little. Just a little side interest of mine when I'm not doing the many other things on my plate. My hometown is Rochester NY. As far as mods to this point go, check out the cardomain site..Other than that, many more mods to come! Catch y'all in the forum! Don't have much time, installing fog lights tonight!!!
01-14-2007, 07:54 AM

RE: Introduce Yourself Here!
---
What's cracking....my name's Derek and I usually go by "D"...i'm 19 and live right near Chattanooga TN or Rossville GA....I recently had a 2005 white automatic sxt....I couldnt handle the automatic transmission it was putting me to sleep lol....so i pulled out all my aftermarket parts I put on it and traded it in for a manual...i;m happier with the color and it has a spoiler as well...the new one is gunmetal and 2004....it has less miles, more power, and a spoiler lol for less money than i was paying for my 2005 white neon....great deal!!! unfortunately both cars interiors were awful...real dirty...I cant afford to buy the car brand new, in fact im making payments on this used one...Im attending college at Dalton State Ga.....I bought a cold air intake on ebay for like 20 bucks and put my expensive autozone K&N air filter on the tube instead of their lame small cone filter....the K&N filter is huge and I like saying I have a custom K&N intake lol.....i'm looking into buying a srt-4 gauge cluster bc they are so much cooler than the neons....I measured the neon's trunk and built a custom sub box for it...just to get the box in or out you have to remove the spare tire lol!! I had two 12" eclipses in it...but i blew those up...im now running two 12" audiobahn flame q'swhich im convinced didnt sound as good as the eclipses but hammer just as hard...my amp is a 3600 watt monoblock Pyle Dryver....the amp can handle a 1 ohm load so thats what im running lol!!! I have a small crappy legacy capacitor and a big x-static battcap for backup power....my headunit is a pioneer 6800 and i love it...I used to drive a 1989 datsun/nissan 300zx 5-speed manual turbo...that car could stomp 5.0 mustangs!!! so now im driving this neon....i need power!!! ive already bought a turbo and exhaust manifold of a srt-4....im awaiting money for the other parts and i cant wait to try to run up against a srt-4!!! I'm running bosch platinum plus plugs and havnt had trouble out of them...i heard the +2's and +4's sometimes arc their sparks so i dont use those...like i said i had the automatic...apparently the auto's come with a slightly bigger throttle body...i can tell by the roar of my intake on the 5-speed that that is true..the 5-speed is not as loud....oh well i plan on upgrading mine to a 60mm anyway...SUPER LONGTERM PLANS...I plan on installing forged connecting rods and a better camshaft and piston rings so i can run at least 16lbs of boost!!! I want the turbo toys!!! that sounds so awsome...im a perfectionist so unfortunately i will be trying to run parts that are more expensive than I can afford...so it may be quite awhile before my turbo neon project is complete...im on here somewhat often bc this site is so great and dependable...
01-15-2007, 09:51 PM
Join Date: Dec 2006
Location:
Posts: 32

RE: Introduce Yourself Here!
---
What's up everyone? My name's Jesse and I go by blazingdisciple just about everywhere. I just got a 2003 Neon SE and I plan on making it a sleeper car that tears people up, lol. I live in Las Vegas, NV like qnr69 but I wasn't born here. I was born in Anaheim, CA and grew up in Lake Havasu City, AZ. I'm 23 (24 in like 8 days) and haven't really done anything to my car yet. I have an AEM CAI and I friggin love the way my car sounds just with that. I plan on putting some exhaust on there with some long tube headers and then on to megasquirt. From there, probably not much until I put the turbo on there....I might just do an SRT-4 swap since I'd gain a manual tranny from that as well. Can't wait to complete my ES-4, lol. Peace!

01-15-2007, 11:20 PM
Join Date: Nov 2006
Location:
Posts: 852

RE: Introduce Yourself Here!
---
Im brian, i spend 40 hours a week playin cop and the other 128 playing the robber. ive been racing since 14 in the junior leages and road course ever since. i have a 7yo daughter who is growing up a major tomboy and can take a punch better than i can.

when i turned 14 my father got me a renault and had me learning how to fix it make it faster and to controll it. living in hershey my familey wasnt poor but the people around me were loaded and i needed every trick i could get to keep up. i have alway had a part time job as a machanic but i get too angry in 8 hrs a day.

now for my car, ive had 8 neons most were parts cars. but my pride is my 03 sxt ive put my heart and soul into it but she dose not return the love. shes on her third motor the first stock the second with built 10.5 comp and the third that should be more reliable the 8.6

my mods
8.6 compresion je pistons
eagle longrods
forged race balenced crank
clevett rod and main bairings
total piston rings
carter water pump
melling oil pump
morroso oil pan
mx udp
stage 3 port and polish with .0025 low grind to bring me to 9.2 compression
12 grind cam
magnum springs
20g garret intercooled turbo
chill fatory intake
poted intake
40lb injectors
super afc
wallbaro 255 fuel pump
borlo egsaust
luke clutch and flywheel
rfl blow off
tex boost contoller
goldline springs
and a buch of other small things

i made a name for myself around here by beating a ferrari, this is funny to me because ritch kids assosiate a high price tag with speed. ive gained some friends from around here off of the site. one of my favret thingss is gettin into small arguement, we keep our tempers well and people love to see what will be said next, always alot of hits. you guys are great and so easy too get along with.
Thread
Thread Starter
Forum
Replies
Last Post

Posting Rules
You may not post new threads
You may not post replies
You may not post attachments
You may not edit your posts
---
HTML code is Off
---