Prevent Rust on my new Ram!
07-15-2014, 09:47 PM

Prevent Rust on my new Ram!
---
I just recently purchased a new 2014 Ram and want to protect the frame and underbody from salt before winter starts. That being said I'm stuck between Rustoleum undercoating spray and Rust Bullet Black Shell to do the job. Does anybody have any ideas or what have you used? Thanks.
07-15-2014, 10:21 PM

---
5 years of MN winters and there is nothing but surface rust. I wouldn't waste any time or money on it. Didn't have any trouble getting the shock bolts loose a couple months ago if that is any indication. It does help that it sits outside year round and I rarely wash it in the winter. If you keep it inside or run it through the car wash a lot in the winter then you will see a lot more rust.
07-16-2014, 10:38 PM
Join Date: Jul 2010
Location: Clarksville, TN
Posts: 235
07-18-2014, 03:44 PM

---
Eastwood's rubberized undercoating is what I used....7yrs ago. I bought the bulk cans and their profesional spray wand and used a compressor. I taped and bagged off all the components and sprayed 2 good caost on everything inclusing the backsides of the rear quarters. I used 3.5 cans. I think they were 32oz cans??
I regularly spray underneath the truck in the winter as well.<----big help.
Here's what underneath currently looks like.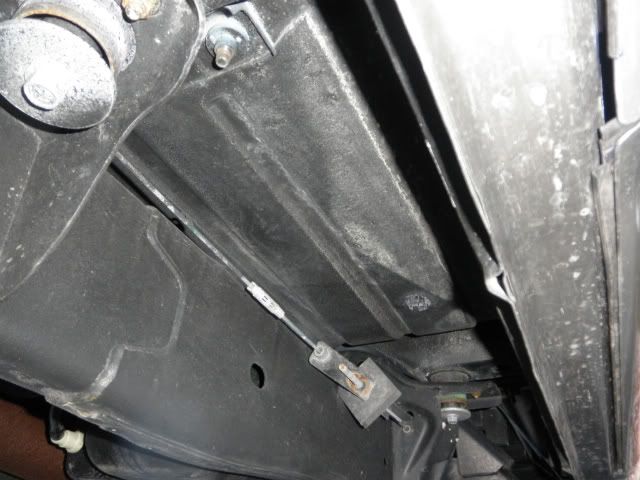 Looks like I didnt wipe all the wax off the rocker when I did it awhile back..oops.
---
Last edited by dirtydog; 07-18-2014 at

03:47 PM

. Reason: added pics
07-18-2014, 11:28 PM
Join Date: Apr 2007
Location: Western PA
Posts: 553
07-19-2014, 10:24 PM
Join Date: Apr 2008
Location: Mass
Posts: 769

---
I traded in my 06' with almost 170k miles and brutal winters here with TONS of salt. While my doors and rear fenders were rotting my undercarriage looked fine. Just surface rust and not an ounce of heavy scale that was weakening anything. I bought a case of Fluid Film to spray my door and fender interiors this winter with to hopefully avoid body rot. But as for the undercarriage i would not be worried about it.
Thread
Thread Starter
Forum
Replies
Last Post
Wheels & Tires brought to you by Tire Rack

Posting Rules
You may not post new threads
You may not post replies
You may not post attachments
You may not edit your posts
---
HTML code is Off
---