READ THIS FIRST!! Common Topics and Questions
01-19-2010, 12:48 PM
READ THIS FIRST!! Common Topics and Questions
---
Ok, I've noticed a lot of questions being asked over and over, so I figured a list of common topics would be helpful. I've made a small list of topics I saw as helpful or useful I will try to add to it as time goes on.
The links are labeled with the title of the thread they link to, if you have a problem or question that fits into one of these threads please post it there rather than start a new thread. That will help make information easier to find and people who have seen the question many times before won't be as annoyed that it popped up in a new thread again
Warranty
*
Warranty Questions
Issues
Specific Codes:
*
OBDII Codes
Truck Problems:
*
Front End noise
*
Power Wire & CEL
*
Rear Brake Issue
*
4.7L Stalling
*
Front Rotors F-ed Up
Performance
Oil and Lubricants:
*
Gas Mileage after Switch to Amsoil
*
Amsoil Question - Trans Fluid
*
Warranty Questions with Amsoil
*
ROYAL PURPLE
*
Switching to Synthetic
Cooling:
*
180 Thermostat
*
180 Degree Thermostat Question
*
180 Degree Thermostat
*
Electric Fan Setups
Spark Plugs / Ignition:
*
Spark Plugs update...
*
Spark Plugs
Intake:
*
OK, My intake is here!
(Custom made)
*
Need Cool Air Intake for 05 Dakota Quad
Throttle Body:
*
Question about TB and TBS
*
Throttle Body
Exhaust:
*
How Does Borla Sound?
*
New Exhaust on 06, V8
*
MUFFLER?
*
Just got a Flowmaster! Sound Clip?
*
New Exhaust
Tires:
*
Tire Question
Originally Posted by Slick Dakota
Watch these videos..
http://www.monkeysee.com/play/14464-...eels-and-tires
Well since I could not find the back spacing or offset for my stock 18x8 wheels I pulled the tire off and measured myself just to be sure so when I go shopping for my after market wheels and these are the numbers I got...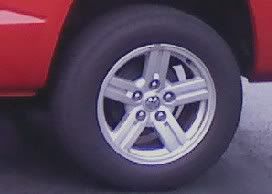 To start these wheels that the manufacture lists at 18x8
this will help you determine what kind of wheel to buy and what kind of tire you can run on your new wheels..
Bolt pattern which all wheel manufactures list for our trucks is 5 5x5 which is 5 lug by 5 1/2" or 5.50 or 5x139.7
Back spacing on these wheels are 5 1/4" or 5.25
Offset for these wheels are positive offset of 1 3/8 to 1 1/2 or right around 38 millimeters
what seems to be the norm the more the the after market wheel gets closer to the centerline of the rim or 0 offset or in the negative offset, it reduces the tire size you can run because of it pushing the tire out away from the truck and then run into rubbing issues...
Here is a video to show you how to measure to find out how big a wheel and tire you can run on your truck.. Move the video along to 4min 55sec into it and there is what you want to watch..
I hope this video stays up since my internet speed is not fast enough to down load the video I have of this to photobucket..Cya Slick
http://www.spike.com/full-episode/mu...rack-car/34568
Here is where it shows you how to measure your wheel if you feel the need..
https://www.rsracing.com/tech-wheel.html
Brakes:
*
Front Brake Upgrade
*
Front Brakes
Suspension
Shocks:
* Aftermarket suspension information
Front Shocks:
Rancho shocks. part number: RS5757
Website to get them:
Here
Monroe shocks. part number: 71100
Website to get them:
Here
Rear shocks:
Rancho shocks. part number: RS5315
Monroe shocks. Part number: 911277
Lifts (suspension, body, level kits)
:
*
6inch lift for 4x4!! Chassis Tech.
*
Level/Lift DAKS Holding Up?
*
Lifted Pics (I think)
*
Leveling Kit?
*
More Body Lift Pics of My Truck
Looks
Cleaning / Detailing:
*
Stains
Body / Graphics:
*
Vinyl
*
Hoods
*
Gutter Guard Grill
Lighting:

*
A Fun How-to LED Turn/Parking Lights
*
LEDs Behind the AC *****
Removing Badges:
*
Badge Removal
Interior Bezel:
*
Woodgrain bezel no more!
A HUGE thanks goes out to Altair, Ericemery, as well as the other contributing members for this thread/information!
---
Last edited by lghtngblt02; 06-05-2010 at

11:57 PM

.
10-05-2010, 09:21 AM

---
Cam swap, boost info, and performance related stickies are now stuck in the F A Q section. Any threads regarding them can stay in the tech section, but any frequently asked question sticky will be in that section.
Thread
Thread Starter
Forum
Replies
Last Post

Posting Rules
You may not post new threads
You may not post replies
You may not post attachments
You may not edit your posts
---
HTML code is Off
---