Dodge Ram Long-Hauler Diesel - 1600+ Miles Between Fills
04-25-2011, 10:48 PM
Join Date: Mar 2010
Location: Macomb
Posts: 38

Dodge Ram Long-Hauler Diesel - 1600+ Miles Between Fills
---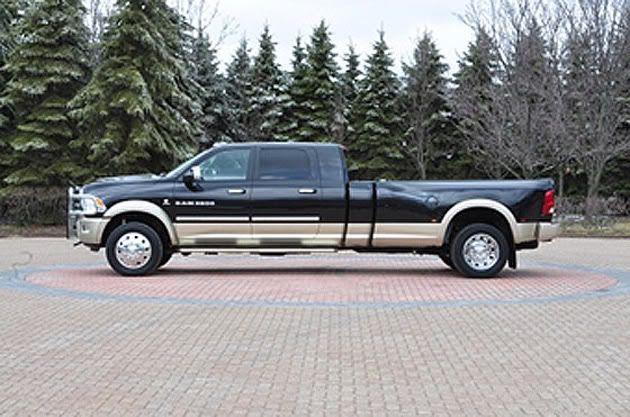 Looking for the ultimate tow rig to pull your fifth-wheel horse trailer, car hauler or RV across the U.S. with just two refueling stops? The Ram Long-Hauler could be all the pickup truck youíll ever need. We're all over the Long-Hauler, along with our friends at Diesel Power Magazine.

The Long-Hauler name fits the truckís length and driving range. The 197.4-inch-wheelbase pickup is based on the Class 5 Ram 5500 medium-duty chassis cab commercial truck (19,500 pounds gross vehicle weight). Itís been upfitted with dual rear wheels, an 8-foot cargo box and an extra 110 gallons of diesel fuel capacity Ė 60 gallons in a custom midship reservoir positioned between cab and bed and 50 gallons in a bed-mounted combo fuel tank and toolbox Ė for a total of 162 gallons. Thatís about 1,600 miles to 2,000 miles of range.

To make the ride as comfortable as possible, the Long-Hauler features Ramís four-door Mega Cab configuration, which offers the most interior volume of any full-size pickup. For backseat passengers, there are adjustable footrests, tray tables, a refrigerator and Wi-Fi connectivity. Itís also trimmed inside and out with Ramís new top-of-the-line Laramie Longhorn option package.

Under the hood is a 6.7-liter Cummins inline-six-cylinder oil burner rated at 350 horsepower and 650 pounds-feet of torque. Itís paired with a six-speed Aisin automatic transmission. The gross combined weight rating is 37,500 pounds, according to an information card that was with the truck when it debuted at the Mid-America Truck Show earlier this year.

Say goodbye to squat. All four corners have 19.5-inch Alcoa aluminum 10-lug wheels that are paired with a Kelderman airbag suspension front and rear to manage its high GCWR. The suspension is self-leveling and can manage the air springs independently, kneeling or raising them to provide an optimal rake for the truck.

Whoís the Long-Hauler customer? Itís aimed at power pullers who are looking to step up from a one-ton truck to more capable tow vehicle but think that Class 6 rigs, like a Freightliner SportChassis, are too much truck and too expensive. Think rodeo competitors, farm owners and full-time RVers.

If you want to check it out yourself, the Ram Long-Hauler will be at the Kentucky Derby on May 6 and 7 in Louisville.
04-29-2011, 02:54 PM
Join Date: Jul 2010
Posts: 10
05-04-2011, 07:45 PM
05-06-2011, 03:02 PM
05-09-2011, 01:43 AM
05-09-2011, 03:22 PM
Join Date: May 2005
Location:
Posts: 3,011
05-09-2011, 08:25 PM
Join Date: Dec 2008
Posts: 279
05-10-2011, 01:14 PM
05-11-2011, 10:14 PM
05-12-2011, 01:49 AM
Thread
Thread Starter
Forum
Replies
Last Post
3rd Gen RAM general discussion/NON-tech

Posting Rules
You may not post new threads
You may not post replies
You may not post attachments
You may not edit your posts
---
HTML code is Off
---